Welcome to Tales From the Snark Side!
Click here to sign up for my newsletter! (No spam, just notifications when I add content to the website.) 
Make sure to look for the confirmation e-mail to complete the process.
---
Available for Pre-Order:
Note: It takes 4-6 weeks for my Siren-BookStrand-published books to be released to third-party sites after their initial release on BookStrand. I have no control over that, that's up to my publisher. If you have a Kindle, you can order directly from Siren-BookStrand and have the file sent right to your device/app. If you have another kind of device, or read on a tablet, you can buy other format files from Siren-BookStrand and either download them or transfer them to your device. Nook | Kobo | iPad | BookStrand App via iTunes or Google Play for Android (Includes FREE books!)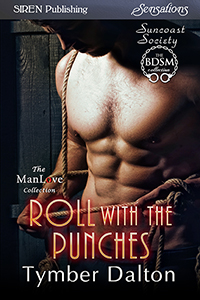 Roll With the Punches (Suncoast Society 55, MMM, BDSM, HEA) by Tymber Dalton

http://www.bookstrand.com/book/roll-with-the-punches

Blurb:

Stuart has no regrets about his new life with Brandon and Jeff. For the first time, he feels he's exactly where he's supposed to be, with a family who loves him for who he is. Even despite the craziness with Brandon's ex, it's all worth it.

Jeff knows this is for life with the two men and has never felt happier. When a mission to help his sister's friend leads to an unexpected health crisis with an uncertain outcome, he is forced to admit he's also vulnerable in ways he never imagined, both physically and emotionally.

Brandon gets that his ex has issues, but he won't let those stand in the way of him and his husbands parenting Emma, his teenaged daughter. Jeff and Stuart have proven they're there for life.

Now their sanity is stretched to the max in ways they never imagined by a horrific truth—they're raising a teenaged daughter who's starting to date.

Related Books: Heartache Spoken Here, A Case of You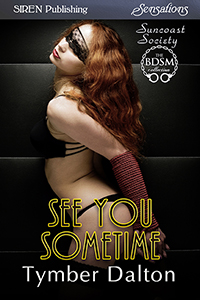 See You Sometime (Suncoast Society 56, MF, BDSM, HEA) by Tymber Dalton.

http://www.bookstrand.com/book/see-you-sometime

Divorced from her Master husband of fifteen years, Skye moves back to Sarasota to live with her parents and rebuild her life. New job, new kinky friends, and she reconnects with her D&D buddies from high school. Including her old boyfriend, Axel.

Axel's been divorced for a couple of years and realizes he's pretty much given up on dating. He also knows most of his D&D friends are kinky, and they assume he's a straight-laced guy. When Skye returns to his life, he doesn't dare hope there might be a possibility they can make things work now that they're all grown up. Or can they?

Sometimes, the second chance is the sweetest…and the one best able to destroy you. Axel soon realizes if he can't figure out how to give Skye what she needs, there are plenty of guys who will. But if he has to say good-bye to her a second time, he's not sure his heart will recover.

Related Books: Axel has made brief appearances in A Roll of the Dice and Initiative.
---
Newest Releases:
---
---
Now on Third-Party Sites:
---
Latest in Print:
---
Try Audible and Get Two Free Audiobooks
---
---
---
 Quick Links:
---
Social Media Links:
---
Looking for my books for free?
NOTE: Regarding "free" e-books, trying to find my books to read online, or download — My books usually are NOT legally available for free. (If it is, believe me, I'd be telling you about it. Right now, only one is free, through the Siren-BookStrand app.) If you see one for free, or for sale on a site that's NOT listed on my spreadsheet of buy links, chances are it's an ILLEGAL COPY on an illegal file-sharing site. I'm NOT rich. I write to support my family. Please do NOT pirate my files, don't upload them, don't share them, don't get them from "free" sources. (Not to mention those file download sites are usually phishing scams or loaded with malware.) This is my livelihood. I don't go into your home and steal your stuff. This is how I pay my bills, with my writing. And to all my readers who legally obtain my books – thank you!
---