Welcome to Tales From the Snark Side!
Click here to sign up for my newsletter! (No spam, just notifications when I add content to the website.) 
Make sure to look for the confirmation e-mail to complete the process.
---
Available for Pre-Order:
Note: It takes 4-6 weeks for my Siren-BookStrand-published books to be released to third-party sites after their initial release on BookStrand. I have no control over that, that's up to my publisher. If you have a Kindle, you can order directly from Siren-BookStrand and have the file sent right to your device/app. If you have another kind of device, or read on a tablet, you can buy other format files from Siren-BookStrand and either download them or transfer them to your device. Nook | Kobo | iPad | BookStrand App via iTunes or Google Play for Android (Includes FREE books!)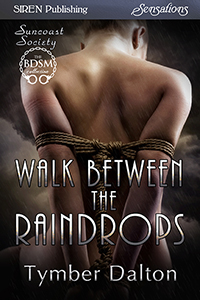 Walk Between the Raindrops (Suncoast Society 51, MF, BDSM) by Tymber Dalton

(Note: This is June and Scrye's book.)

http://www.bookstrand.com/book/walk-between-the-raindrops

Blurb:

When June's twin sister July was murdered at seventeen, only Scrye's love and strength kept June going, even as her world fell apart around her. That very love means she can never reveal to him the dark secrets she harbors surrounding that stormy night.

Or what she did to make things right.

Years before Mark was known as Scrye the rope guy, he'd loved June completely and knew he'd marry her. July's murder shatters June and her family, leaving Mark, only nineteen, to step forward and take charge. Over twenty years of marriage later, he loves June more than ever and knows he'll do whatever it takes to keep protecting his wife.

Especially things she can never know about.

When her painful past is dredged from a river, June has to face demons from that horrible night that threaten to take everything from her. Can she hold the lies together without her sweet sadist ever learning the horrific truth?

Note: Some of the events referenced in this book are from Vicious Carousel. It's not necessary to read that book first, but you'll learn more backstory if you do.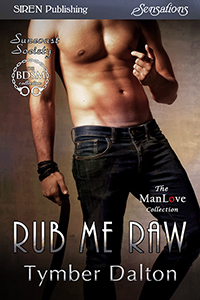 Rub Me Raw (Suncoast Society 52, MM, BDSM) by Tymber Dalton

http://www.bookstrand.com/book/rub-me-raw

Blurb:

Tired of being an object instead of a partner, Simon forces his ex to move out after hitting his emotional limit and realizing the man only wants him for wank fodder. An introduction to Victor by friends helps Simon shut the mental door on his ex for good and long to explore all the delicious Domly things the handsome realtor wants to do to him.

Victor moved to Florida for a fresh start far away from his ex. He's looking for an open and honest subby guy. His instant, scorching attraction to Simon is only intensified by the fact that he can actually get some decent sleep for the first time in weeks when with the man.

But spooky events and shocking revelations force Victor to move from his temporary digs and in with Simon. Now, it's make or break time. Can Simon handle Victor full-time in full-on Dom mode, or will both men be rubbed emotionally raw yet again?
---
Newest Releases:
---
---
Now on Third-Party Sites:
---
Latest in Print:
---
Try Audible and Get Two Free Audiobooks
---
---
---
 Quick Links:
---
Social Media Links:
---
Looking for my books for free?
NOTE: Regarding "free" e-books, trying to find my books to read online, or download — My books usually are NOT legally available for free. (If it is, believe me, I'd be telling you about it. Right now, only one is free, through the Siren-BookStrand app.) If you see one for free, or for sale on a site that's NOT listed on my spreadsheet of buy links, chances are it's an ILLEGAL COPY on an illegal file-sharing site. I'm NOT rich. I write to support my family. Please do NOT pirate my files, don't upload them, don't share them, don't get them from "free" sources. (Not to mention those file download sites are usually phishing scams or loaded with malware.) This is my livelihood. I don't go into your home and steal your stuff. This is how I pay my bills, with my writing. And to all my readers who legally obtain my books – thank you!
---