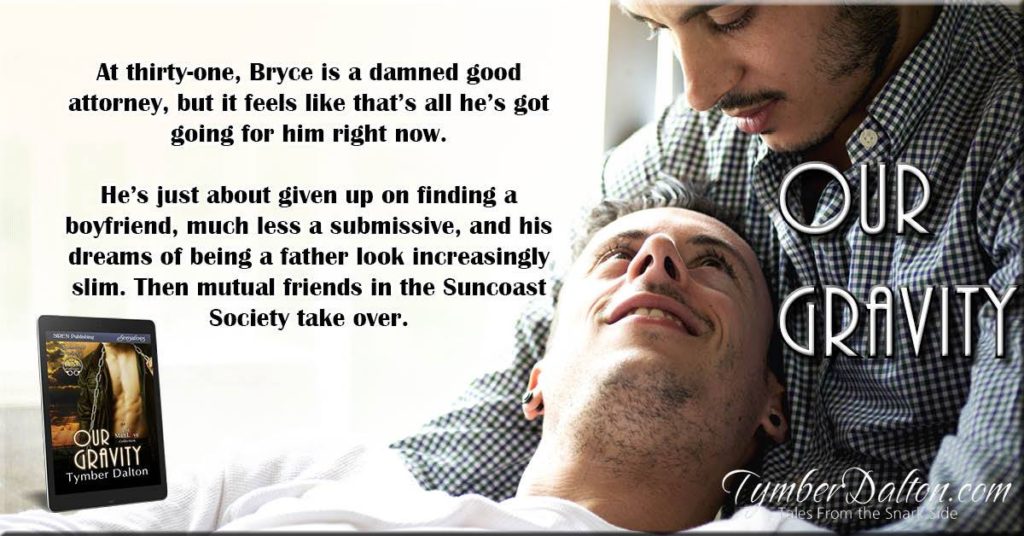 Now available for pre-order! Our Gravity (Suncoast Society 63, MM, BDSM) by Tymber Dalton.
http://www.bookstrand.com/tymber-dalton
Note: It takes 4-6 weeks for books to be released to third-party sites by my publisher after their initial release on the Siren-BookStrand site. I have no control over that. If you have a Kindle, you can order directly from Siren-BookStrand and have the file sent right to your device/app. If you have another kind of device, or read on a tablet, you can buy other format files from Siren-BookStrand and either download them or transfer them to your device. Nook | Kobo | iPad. 
Blurb:
At thirty-one, Bryce is a damned good attorney, but it feels like that's all he's got going for him right now. He's just about given up on finding a boyfriend, much less a submissive, and his dreams of being a father look increasingly slim. Then mutual friends in the Suncoast Society take over.
Dustin is relatively new to the area. The realtor thinks his friends are wasting their time fixing him up, especially since Bryce is fifteen years younger than him. No younger guy has ever wanted him before. Except this feels like forever in a scary-fast way. Bryce is not only okay with Dustin not wanting kids, he's also the Dom of Dustin's dreams.
Enter Kira, Bryce's lifelong best friend. She's about to make Bryce's dreams come true with a devastating price. Dustin knows he owns Bryce's heart, but can he accept the guy he loves marrying a woman whose last wish is that Bryce be by her side?
---
Don't forget to sign up for my e-mail newsletter! I'm going to be running a series of giveaways, including a Kindle Fire!
---
How do I find your books?
I have a spreadsheet of clickable LEGAL buy links for ALL my books under my various pen names, in the various formats (e-book, audio, and print) and arranged by series! (And Hubby's titles, too!) Bookmark it, because I update it all the time. 🙂
---
ICYMI:
Most Recent Releases/Coming Soon:
Now Available in Print:
Now in Audiobook:
Coming Soon | Spreadsheet of Buy Links | Series Info | Audiobooks
Facebook group Tymber's Trybe | My Facebook Page
Twitter | Instagram | Google+ | Pinterest
Tymber's Amazon Author Page | Lesli's Amazon Author Page
My Siren-BookStrand Author Page
Hubby's Amazon Author Page as Jon Dalton
Hubby's Amazon Author Page as Haley Jordan