(Holiday romance, sweet romance, short story.)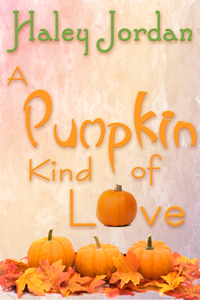 by Haley Jordan
Release Date: 10/05/2018
Pre-Order Links:
(Note: The link will take you to the Books2Read page listing all the vendors where it's currently available for pre-order. As it gets closer to release, more retailer links will appear on that page. Amazon will be one of the last pre-orders to appear closer to the release date. Thanks!)
Blurb:
Allison Kirby wants more from life than the tedium offered by her job in a call center.
Specifically, she wants a loving husband, a family, and a better job. When Allison enters a pumpkin carving contest on a whim, she's up against the smug and confident Grayson Palmer.
While sparks and pumpkin guts fly, can they avoid carving into each other and instead sculpt something even better?