Governor Trilogy – Book 1
Writing As: Lesli Richardson
He kneels for only one man…
Release Date: 8/31/2018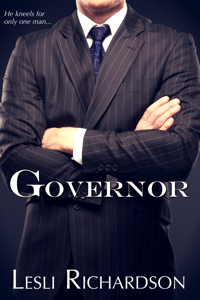 Pre-Order Link:
(Note: The link will take you to the Books2Read page listing all the vendors where it's currently available for pre-order. As it gets closer to release, more retailer links will appear on that page. Amazon will be one of the last pre-orders to appear closer to the release date. Thanks!)

Blurb:
I kneel for only one man—Carter Wilson, my best friend, chief of staff, and bastard extraordinaire.
It's a price I willingly pay to be owned by Her.
His wife.
Who is also, as of when we were sworn in this morning, my lieutenant governor.
I am Owen Taylor, governor of the great state of Florida.