Suncoast Society – 58
(Contemporary BDSM, MMM, HEA)
Brandon thought raising a teenaged daughter tested the limits of his patience…until he attends a wedding in Iowa and meets some of Stuart's family.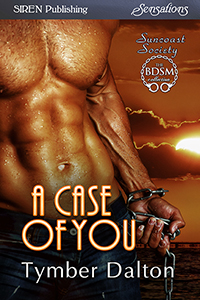 Writing As: Tymber Dalton
Publisher: Siren-BookStrand
Release Date: September 8, 2017
Buy Links:

http://www.bookstrand.com/book/a-case-of-you
Note: It takes 4-6 weeks for books to be released to third-party sites by my publisher after their initial release on the Siren-BookStrand site. I have no control over that. If you have a Kindle, you can order directly from Siren-BookStrand and have the file sent right to your device/app. If you have another kind of device, or read on a tablet, you can buy other format files from Siren-BookStrand and either download them or transfer them to your device. Nook | Kobo | iPad | BookStrand App via iTunes or Google Play for Android (Includes FREE books!)
Blurb:
Life is starting to settle down for Brandon, Jeff, and Stuart. Raising a teenaged daughter frequently tests the limits of Brandon's patience, until he meets some of Stuart's family. Now he understands why Stuart craves the stability of their unusual poly pack.
Stuart doesn't want to miss his sister's wedding but he's terrified of his oldest brother. It's hard not to worry about their safety. Add becoming a parent to Emma, and Jeff's health issues, and Stuart's stress is through the roof.
Jeff knows his guys love him. Yet when a chance to return to work comes along, he's desperate to take it so he doesn't feel like a mooch. Only one problem—Emma and Grace will rat him out if his health tanks again. Can he juggle a job and a severe, chronic health condition? Worse, when danger rears its head, can he protect his family?
Add Grace and her barbecue fork of doom, and life proves even more…interesting.
Related Books: Heartache Spoken Here, Roll With the Punches, Blues Beach