Suncoast Society – 53
(Contemporary BDSM, MMF, HEA)
A devastating wreck shatters Tamsin, Dexter, and Neil's lives. Can the men care for her and rebuild a life for themselves in this new world?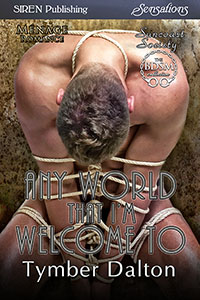 Writing As: Tymber Dalton
Publisher: Siren-BookStrand
Release Date: June 23, 2017
Buy Links:

http://www.bookstrand.com/book/any-world-that-im-welcome-to
Note: It takes 4-6 weeks for books to be released to third-party sites. I have no control over that. If you have a Kindle, you can order directly from Siren-BookStrand and have the file sent right to your device/app. If you have another kind of device, or read on a tablet, you can buy other format files from Siren-BookStrand and either download them or transfer them to your device. Nook | Kobo | iPad | BookStrand App via iTunes or Google Play for Android (Includes FREE books!)
Blurb:
Neil isn't just Tamsin's gay best friend and roommate—he's her Dom and adopted family. While she jokes she'd love to watch him and Dexter, her fiancé and Dom, together in bed, she knows that'll never happen.
Dexter isn't jealous of Neil. As a paramedic, Dexter frequently spends days away from Tamsin. Plus, the older Dom is as much a mentor to Dexter as he is a friend. Neil's never made a secret about his attraction to Dexter, even though he knows nothing will ever happen since Dexter's straight.
Then a drunk driver shatters their world, leaving Neil to step in and pick up the pieces for Dexter and Tamsin. They might never get her "back," but Neil's sworn to take care of her. Now the men are forced to forge deeper, stronger bonds both to take care of Tamsin…and each other.
As their love grows, one question remains unanswered: What happens to them if or when Tamsin wakes up?
Book Trailer:
Any World That I'm Welcome To from Sunshine Reads on Vimeo.