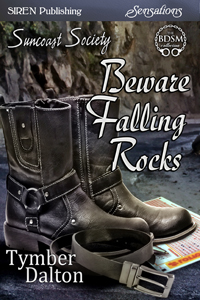 Beware Falling Rocks
Suncoast Society 37
MF, contemporary, BDSM
Writing As: Tymber Dalton
Publisher: Siren-BookStrand
Release Date: 9/26/2016
Buy Links:

Kindle (US) | Kindle (UK) | Kindle (CA) | Kindle (AU)
Kindle (JP) | Kindle (IT) | Kindle (DE) | Kindle (MX)
Kindle (BR) | Kindle (IN) | Kindle (NL) | Kindle (ES) | Kindle (FR)
Print: Coming Soon
Blurb:
The last thing he wanted to do was walk away.
Paul was forced to make a heartbreaking decision to end things with Lynn. It took nearly two years to painfully hammer home that, despite his beliefs, he chose wrongly and all his friends had been right. Including Lynn. Now he's back and ready to fight for the love he gave up—if Lynn will only give him a chance.
The last thing she can do is move on.
Lynn never blamed Paul because she understood why he had to leave. She also knows it tore him up inside. Two years later, she's a shell of her former self and knows logic doesn't matter when a shattered heart has deeply buried her under a rockslide of pain.
The last thing they thought they'd have was a second chance.
Paul's sudden return threatens to upend Lynn's life. Can she ever trust him again, or will her dreams be cruelly crushed once more?
This is the second book in the "South Dakota Trilogy" story arc within the Suncoast Society series, made up of the following three books:
Trailer:
Beware Falling Rocks by Tymber Dalton from Sunshine Reads on Vimeo.