Suncoast Society – 61
(Contemporary BDSM, MF, HEA)
A funeral and an encounter with an old boyfriend might make Tracey do more than revisit her past—it might lead her to her future.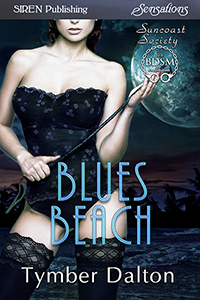 Writing As: Tymber Dalton
Publisher: Siren-BookStrand
Release Date: 10/30/2017
Buy Links:

http://www.bookstrand.com/book/blues-beach
Note: It takes 4-6 weeks for books to be released to third-party sites by my publisher after their initial release on the Siren-BookStrand site. I have no control over that. If you have a Kindle, you can order directly from Siren-BookStrand and have the file sent right to your device/app. If you have another kind of device, or read on a tablet, you can buy other format files from Siren-BookStrand and either download them or transfer them to your device. Nook | Kobo | iPad | BookStrand App via iTunes or Google Play for Android (Includes FREE books!)
Blurb:
Tracey knows she's lucky. She has a chance to rebuild her life—and her relationship with her daughter, Emma—in a healthy way. But when she's forced to travel to California for a cousin's funeral, she dreads seeing her family and enduring the insults she knows will follow. Except…she didn't expect to rekindle something with her old boyfriend, Eric.
Widowed and with his dreams shattered, Eric easily recalls the love he's always held for Tracey. Whether this is a second chance or a one-time weekend to remember remains to be seen. Either way, he'll take the opportunity, no matter how short, to be with her.
But Emma isn't so trusting. And when another complication crops up, Tracey runs a very real risk of losing Emma a second time and that's something Eric will not allow Tracey to do.
So how do you woo a genius super-villain in training into liking you, much less accepting you as one of her "dads?"
Related Books: Heartache Spoken Here, Roll With the Punches, A Case of You