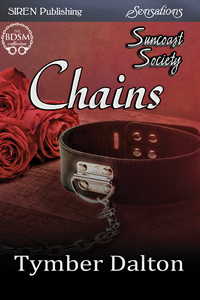 Chains
Suncoast Society – 20
BDSM, MMF with MM and MF
Writing As: Tymber Dalton
Publisher: Siren-BookStrand
Release Date: 4/3/2015
Buy Links:

Kindle (US) | Kindle (UK) | Kindle (CA) | Kindle (AU)
Kindle (JP) | Kindle (IT) | Kindle (DE) | Kindle (MX)
Kindle (BR) | Kindle (IN) | Kindle (NL) | Kindle (ES) | Kindle (FR)
Blurb:
Rebecca escaped her abusive, domineering ex-husband and Dom for a life on the road as a chainmaille jewelry artisan with her dog, Chewi. Unfortunately, she couldn't escape the fear that ruled her life. When her uncle's death forces her home again, she meets Toby and Logan and realizes maybe she's not as happy as she thought.
Toby and Logan are struggling after a betrayal by an ex. Then they discover their next door neighbor's body and it shocks them into realizing how short and precious life is. When they learn their neighbor's niece has friends in common with them, signs point to yes and they decide to take another chance.
Rebecca knows their friends are all rooting for them, but when a chance encounter with her ex shatters her calm, she realizes she's going to have to decide whether to run, or to take a stand and fight the invisible chains she's allowed to bind her all these years.