Suncoast Society – 76
(Contemporary BDSM, MMF)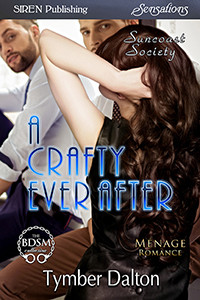 Cali knows she has to marry Sean or Max. Now how long can the two crafty bastards keep her groom's identity a secret from her?
Writing As: Tymber Dalton
Publisher: Siren-BookStrand
Release Date: July 2, 2018
Buy Links:

http://www.bookstrand.com/book/a-crafty-ever-after
Note: It takes up to 6 weeks for my Siren-BookStrand-published books to be released to third-party sites after their BookStrand release. I have no control over that, that's up to my publisher. If you have a Kindle, you can order directly from Siren-BookStrand and have the file sent right to your device/app. For other tablets/devices, you can buy other format files from Siren-BookStrand and either download them or transfer them to your device. Nook | Kobo | iPad.

Click here to read a NSFW adult excerpt.
Blurb:
Following Cali's health scare, Sean and Max have played the double-Dom card and put their feet down. She will marry one of them so she'll finally have good health insurance. They don't care which one.
Except when Cali can't choose between them, she leaves the decision in their hands. And because life is never boring with Sean and Max, they can't do anything the easy way. Where's the fun in that? Now the two crafty bastards have yet another trick up their troublemaking sleeves to keep their beloved wife on her toes.
So how long, exactly, can the men conceal the groom's true identity from their bride?
Related Books: Crafty Bastards, Kinko de Mayo, Happy Spank Patrick's Day, This Moody Bastard, Happy Spanksgiving, Friends in Common, A Spanktacular Fourth