Suncoast Society – 78
(Contemporary BDSM, MF)
When a phone call about Tony's past intrudes on his present, will it draw him and Shayla closer, or split their dynamic at the seams?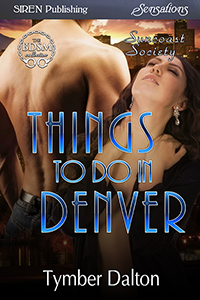 Writing As: Tymber Dalton
Publisher: Siren-BookStrand
Release Date: July 30, 2018
Buy Links:

https://www.bookstrand.com/things-to-do-in-denver
Note: It takes up to 6 weeks for my Siren-BookStrand-published books to be released to third-party sites after their BookStrand release. I have no control over that, that's up to my publisher. If you have a Kindle, you can order directly from Siren-BookStrand and have the file sent right to your device/app. For other tablets/devices, you can buy other format files from Siren-BookStrand and either download them or transfer them to your device. Nook | Kobo | iPad.

Blurb:
Tony Daniels has a high-stress job running the data center for Asher Insurance. When he's sent to Denver to supervise building their new facility, it completely takes over his life, including stealing valuable time and attention from wife and slave, Shayla.
Shayla doesn't like having to spend time apart from her husband, but she's a big girl with a job of her own. Still, it would be nice to actually spend their wedding anniversary together. And that gives her an idea…
But then Tony receives an unexpected phone call, and his past moves to darkly intrude on and overshadow his already thinly stretched present. Sadist doesn't mean soulless. Except now it also means asking something of his wife she has every right to refuse. Will this new weight draw them closer, or will their already dangerously stressed dynamic split apart at the seams?
Related Books: This book overlaps the events of A Spanktacular Fourth and A Crafty Ever After. Tony and Shayla have been previously featured in The Denim Dom and Click.