Suncoast Society – 64
(Contemporary BDSM, MM, MF with secondary characters)
A friendly game of "Who's on Top" between Max and Sean is just business as usual around their house.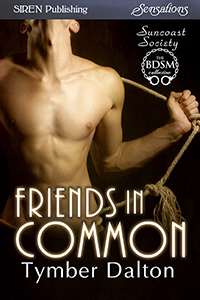 Writing As: Tymber Dalton
Publisher: Siren-BookStrand
Release Date: Coming 1/8/2018
Buy Links:

http://www.bookstrand.com/book/friends-in-common
Note: It takes 4-6 weeks for books to be released to third-party sites by my publisher after their initial release on the Siren-BookStrand site. I have no control over that. If you have a Kindle, you can order directly from Siren-BookStrand and have the file sent right to your device/app. If you have another kind of device, or read on a tablet, you can buy other format files from Siren-BookStrand and either download them or transfer them to your device. Nook | Kobo | iPad. 
Blurb:
Playing a friendly game of "Who's on Top" is just another day in Max, Sean, and Cali's life. And when it comes to their friends, the triad are usually the first ones there, pitching in and stepping up to help.
Unfortunately, there are some things they can't fix for their friends. The trick is to recognize that boundary while not forgetting how to have fun or neglecting their own happiness.
But sometimes, Cali can make even a T-Rex look tame.
Related Books: Cali, Max, and Sean were first featured in Crafty Bastards. Other books: Kinko de Mayo, Happy Spank Patrick's Day, Happy Spanksgiving, and Friends in Common.