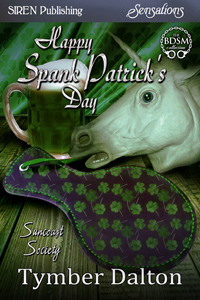 Happy Spank Patrick's Day
Suncoast Society – 47
contemporary BDSM, MM, MMM, MF, MMF, FF, IR
Writing As: Tymber Dalton
Publisher: Siren-BookStrand
Release Date: 03/20/2017
Buy Links:

http://www.bookstrand.com/book/happy-spank-patricks-day
Note: It takes 4-6 weeks for books to be released to third-party sites. I have no control over that. If you have a Kindle, you can order directly from Siren-BookStrand and have the file sent right to your device/app. If you have another kind of device, or read on a tablet, you can buy other format files from Siren-BookStrand and either download them or transfer them to your device. Nook | Kobo | iPad | BookStrand App via iTunes or Google Play for Android (Includes FREE books!)
Blurb:
Cali, Max, and Sean are hosting a kinky St. Patrick's Day party for the Suncoast Society. From unicorn shibari photo shoots to crazy party games, it's bound to be a wild night. Even if Cali's bondage-loving cat, Baxter, has been confined to a back room for the duration of the festivities.
Yet it's not all fun and games. Before the party even happens, tragedy overshadows the evening, driving home the point that life is short and uncertain, friends are everything, and each moment should be fully appreciated. It also brings a lingering, unsettled question back to the forefront for the triad.
For tonight, they've been asked to carry on, and that's what they'll do. But as the party plays out around them, will their future path finally solidify in their minds, or will it leave them with more doubts and questions than answers?
Book Trailer:
Happy Spank's Patrick Day from Sunshine Reads on Vimeo.