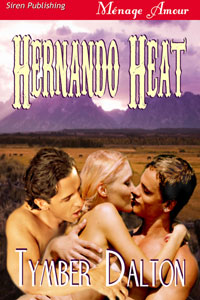 Hernando Heat
mfm, historical, cowboys/western
Writing As: Tymber Dalton
Publisher: Siren-BookStrand
Buy Links:

Kindle | Nook | Kobo
Apple | Google | Sony
Blurb:
[Ménage Amour: Erotic Western Ménage a Trois Romance, M/F/M]
Katie Dorchester's heart died with her husband. Worse, her ex-in-laws would kill to steal her property. Forced to leave town, she tries to build a new life in Brooksville.
Enter Joe Lansing and his cousin, Deputy Mason Carlisle. Joe's had run-ins with the Dorchesters before…and suspects his fiancée paid the price. Mason lost his sister to a rich bully. The men have heartache of their own, but when they intercede on Katie's behalf to protect her from the Dorchesters, they know she is the one for them.
Katie would do anything to protect Joe and Mason's reputations in town, including giving up her own happiness with them. When the Dorchesters threaten her men, she tries to protect them the only way she knows. Now her men are in a race to save her life and their new family. Can they keep her safe in the deadly Hernando Heat?
Note: There is no sexual relationship or touching for titillation between or among cousins.
A Siren Erotic Romance
Trivia: This book was originally planned to be a companion book to Sarasota Steam (writing as Tessa Monroe).