Suncoast Society – 70
(Contemporary BDSM, MMMMF, IR, RH)
Arden's life takes a turn for the better when four rich hunks hire her. Then a chance encounter at Venture complicates her life even more…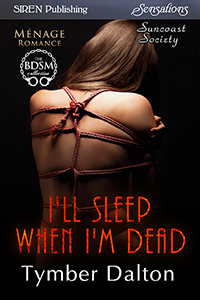 Writing As: Tymber Dalton
Publisher: Siren-BookStrand
Release Date: 4/02/2018
Buy Links:

http://www.bookstrand.com/book/ill-sleep-when-im-dead
Note: It takes 4-6 weeks for books to be released to third-party sites. I have no control over that. If you have a Kindle, you can order directly from Siren-BookStrand and have the file sent right to your device/app. If you have another kind of device, or read on a tablet, you can buy other format files from Siren-BookStrand and either download them or transfer them to your device. Nook | Kobo | iPad 

Blurb:
Arden's been plagued by personal problems—none of them involving men. But when she waits on four hunky rich guys one night and they find out she's studying computers, their job offer is the answer to her prayers.
Trace, Steve, Ken, and Hal have been best friends since they were college roommates. They've already successfully birthed and cashed out one start-up that made them rich, and moved to Florida to focus on replicating their accomplishment. They hope buying a house together will help them recapture their magic and avoid distractions, like dangerously meddling family and crazy exes. But Arden, their adorable motorcycle-riding assistant, doesn't seem to understand how much she distracts them.
Then a chance encounter at Venture gives the men a very bad—or very good—idea. And when Ken needs Arden's help hiding his secret from family, the men decide the risk is worth it. Now all they have to do is convince Arden she's perfect for them.