Suncoast Society – 68
(Contemporary BDSM, MM)
When Boyd meets Caleb at a friend's party, it turns his life upside down in a good way. Only one problem—Caleb works for him.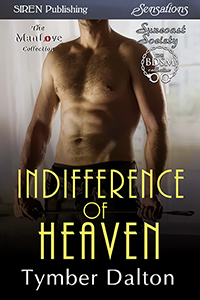 Writing As: Tymber Dalton
Publisher: Siren-BookStrand
Release Date: March 5, 2018
Buy Links:
http://www.bookstrand.com/book/indifference-of-heaven

Note: It takes 4-6 weeks for books to be released to third-party sites. I have no control over that. If you have a Kindle, you can order directly from Siren-BookStrand and have the file sent right to your device/app. If you have another kind of device, or read on a tablet, you can buy other format files from Siren-BookStrand and either download them or transfer them to your device. Nook | Kobo | iPad 

Blurb:
Boyd's avoided his loneliness by attending his friend Kent's "parties"—full-on sexy time that helps the Dom forget he can never have Caleb. Especially since Caleb works for him, and he has no idea if Caleb's even gay.
Recently-out Caleb decides the only way he'll get his hunky boss out of his mind for good is by letting Kent set him up at a special private party. Caleb can be blindfolded, which makes it even hotter. But the hooded mystery Dom who takes control of Caleb for the night makes him want even more.
Horrified, Boyd belatedly realizes the mystery guy is the one guy who's off-limits. Boyd conceals his identity while enjoying the best night of his life. A night that can never be repeated.
Except walking away from Caleb is harder than he thought. When someone else wants to move in and claim the man, Boyd needs to choose between his career…or love. Or can he have both?
Related Books: Boyd and Caleb's story is continued in Like the Seasons. Boyd is first and briefly introduced in Steady Rain. Kent's story is told in Through With Love.