Suncoast Society – 69
(Contemporary BDSM, MM)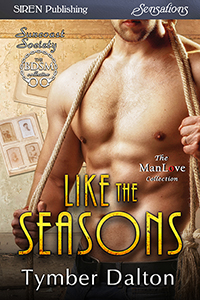 As Boyd and Caleb settle into their relationship, keeping it a secret might prove harder than they thought. Especially when Caleb's family tries to meddle.
Writing As: Tymber Dalton
Publisher: Siren-BookStrand
Release Date: 3/19/2018
Buy Links:

http://www.bookstrand.com/book/like-the-seasons
Note: It takes 4-6 weeks for books to be released to third-party sites. I have no control over that. If you have a Kindle, you can order directly from Siren-BookStrand and have the file sent right to your device/app. If you have another kind of device, or read on a tablet, you can buy other format files from Siren-BookStrand and either download them or transfer them to your device. Nook | Kobo | iPad 

Blurb:
Boyd's determined to make his relationship with Caleb succeed, no matter what they must do to keep it a secret at work until they can transfer Caleb. The fact that Caleb isn't freaked out over Boyd's long-lost daughter, Ella, is more proof, to Boyd, that they're meant to be together.
Caleb never thought he'd find happiness—until a friend's sneakiness brought him and Boyd together. But Caleb knows his family won't be happy if they discover his secret. Between keeping the situation hidden at work, and avoiding his family, it's stressful. Helping Boyd's daughter is not only the right thing to do, it's a great distraction.
When Ella's nearly killed, Caleb steps forward to help the man he loves by taking over to care for her, adding yet another complication to their already shaky situation. But when Caleb's family decides to meddle, Boyd refuses to back down and will do whatever it takes to fight for his boy…and their happiness.
Related Books: Boyd is first and briefly introduced in Steady Rain, and this book is a sequel to Indifference of Heaven. Kent's story is told in Through With Love.