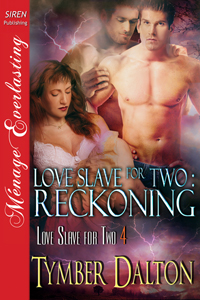 Love Slave for Two: Reckoning
Love Slave for Two – Book 4
mmf, contemporary
Writing As: Tymber Dalton
Publisher: Siren-BookStrand
Love Slave for Two series page

Kindle | Nook | Kobo | Apple | Google
Audiobook: Amazon | Audible | iTunes
Blurb:
[Siren Ménage Everlasting: Erotic Ménage a Trois Romance, M/M/F, with M/M, light consensual BDSM, sex toys, HEA]
Love and passion…
Nevvie, Tom, and Tyler have made it through more than their fair share of ups and downs, including surviving a cross-country family vacation cooped up together in an RV. With their family growing by leaps and bounds, their future looks bright even as their love and passion for each other burns ever brighter.
A deadly storm…
Now Nevvie has to stay strong not just for her men and her sons, but for her brothers, parents, and her little sister as she helplessly watches a killer hurricane bear down on Tampa from the safety of Savannah.
An even deadlier foe…
When confronted by an evil man hell-bent not only on revenge, but on destroying all Nevvie loves, can Nevvie, Tom, and Tyler rely on each other and draw on inner strength they never knew they possessed to face the final reckoning?
A Siren Erotic Romance
Other books in the series:
1) Love Slave for Two: Beginnings (Prequel)
2) Love Slave for Two (Book 1)
3) Love Slave for Two: Family Matters (Book 2)
4) Love Slave for Two: Reunions (Book 3)
5) Love Slave for Two: Reckoning (Book 4)
Related Books:
Ray, Oot, and kitten (from LSFT: Beginnings) also appear in Safe Harbor(Suncoast Society) and kitten's tale. Characters from Dead Moon Rising(originally writing as Macy Largo) appear in LSFT: Reunions.