(MMF, contemporary, BDSM-lite)
With an unknown killer on the loose and Nevvie the prime suspect, can the triad uncover the truth before they're ripped apart forever?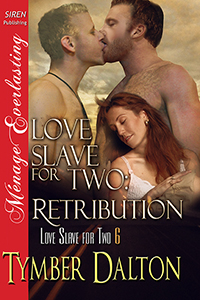 Writing As: Tymber Dalton
Publisher: Siren BookStrand
Release Date: December 11, 2017
Buy Links:

http://www.bookstrand.com/book/love-slave-for-two-retribution
Note: It takes 4-6 weeks for books to be released to third-party sites by my publisher after their initial release on the Siren-BookStrand site. I have no control over that. If you have a Kindle, you can order directly from Siren-BookStrand and have the file sent right to your device/app. If you have another kind of device, or read on a tablet, you can buy other format files from Siren-BookStrand and either download them or transfer them to your device. Nook | Kobo | iPad 
Click here to read an adult excerpt.
Blurb:
In the immediate aftermath of storms literal and metaphorical, Nevvie in particular has drawn the focus of law enforcement. She's their prime suspect, and it doesn't matter the victim was a proven psycho—murder is murder.
Tom and Tyler know not only is Nevvie innocent, no one in their inner circle could or would have committed the murder, no matter how justified it might have been. The problem is proving it.
Add to that the fact that whoever pulled the trigger now appears to be stalking them. With everyone close to them under suspicion, the trouble is weeding through the facts to uncover the truth. Especially when Andrew goes rogue and falsely confesses in an attempt to muddy the waters and protect their family.
Except…the reality is even more shocking, and the stalker closer, than any of them expected. As Nevvie's life hangs in the balance, can they expose the dark and complicated truth before it's too late?