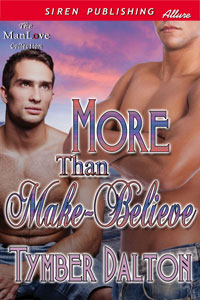 More Than Make-Believe
mm, contemporary, gay-for-pay
Writing As: Tymber Dalton
Publisher: Siren-BookStrand
Buy Links:

Kindle (US) | Kindle (UK)
Nook | Kobo | iTunes | Google
Blurb:
[Siren Allure ManLove: Erotic Alternative Romance, M/M, ménage elements not involving the heroes, sex toys, HEA]
When you fall for a fantasy, how do you know it's more than make-believe?
Travis Collins, a straight college student, finds himself in a financial bind. He'll do anything legal, including going gay for pay and spending a weekend as "Craig Rocke," with gay porn star Marston Cougar. Marston tells him to remember it's all fantasy for the camera even though it feels like more.
Gary Carmeletti, also known as Marston Cougar, has a respectable day job. He started out making gay porn to pay for college. After getting his heart broken, he has a no-dating rule. Now paired with "virgin" Craig, he finds it hard to keep it make-believe when he's losing his heart.
Gary's niece needs surgery, and he almost has enough money to quit for good. But now that he feels a true connection with his fantasy costar, will he be able to find a happily ever after when he feels it's more than make-believe?
NOTE: This book was previously published with another publisher.
A Siren Erotic Romance