Suncoast Society – 60
(Contemporary BDSM, MMMF, HEA)
While the quad's dynamic settles, can Tilly sort her feelings sooner than planned…or is she enjoying her game of cat and mouse with the sadist?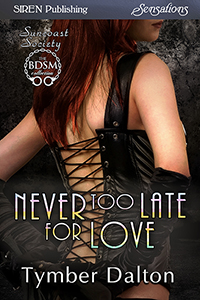 Writing As: Tymber Dalton
Publisher: Siren-BookStrand
Release Date: 10/16/2017
Buy Links:
http://www.bookstrand.com/book/never-too-late-for-love

Note: It takes 4-6 weeks for books to be released to third-party sites by my publisher after their initial release on the Siren-BookStrand site. I have no control over that. If you have a Kindle, you can order directly from Siren-BookStrand and have the file sent right to your device/app. If you have another kind of device, or read on a tablet, you can buy other format files from Siren-BookStrand and either download them or transfer them to your device. Nook | Kobo | iPad | BookStrand App via iTunes or Google Play for Android (Includes FREE books!)
Blurb:
Bob never dreamed he'd have a chance with Tilly once Landry entered her life. Now he's faced with the chance of forever with not only Tilly, but Cris and Landry, too. He's never wanted anything more, and will do anything to convince them he means it.
Cris always knew Landry was sneaky, but this takes the cake. He enjoys watching the metaphorical chess game between Landry and Tilly. Meanwhile, he's determined to forge his own bonds with Bob.
Tilly knows Landry is an ethical sadist, but still isn't sure why he's so okay with adding Bob to their family. She can play the game as well as the sneaky sadist can. As Landry works to convince her this new world order won't destroy their carefully balanced dynamic, she knows they have to get things right or risk not only their hearts being broken, but their daughter's, too. Is this really perfection? Or is heartache hiding just out of sight?
Related Books: Tilly, Landry, and Cris first appear in Cardinal's Rule. Also, check out Click, Impact, Happy Valenkink's Day. Bob's story is told in Borderline, Never Too Late for Love.