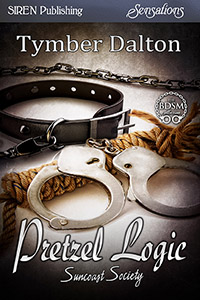 Pretzel Logic
Suncoast Society – 49
contemporary BDSM, MF
Writing As: Tymber Dalton
Publisher: Siren-BookStrand
Release Date: 04/17/2017
Buy Links:

http://www.bookstrand.com/book/pretzel-logic
Note: It takes 4-6 weeks for books to be released to third-party sites. I have no control over that. If you have a Kindle, you can order directly from Siren-BookStrand and have the file sent right to your device/app. If you have another kind of device, or read on a tablet, you can buy other format files from Siren-BookStrand and either download them or transfer them to your device. Nook | Kobo | iPad | BookStrand App via iTunes or Google Play for Android (Includes FREE books!)
Blurb:
Brita was a cop, until an on-duty injury while protecting a child forced her retirement. Now her days are spent teaching firearms classes, shooting skeet, and doting on her young niece, Jordan. She knows her relationship with Ethan is for life, it's just a matter of forcing her brain to label it.
The moment Brita got shot is forever seared in Ethan's memory. She's the woman he loves, but he's no dumb Dom. He's patiently awaiting the day she can finally accept he's not going anywhere.
Then an incident during a school outing, where Brita makes a split-second call to protect Jordan and her classmates, changes life forever. Legally and morally, Brita made the right decision. Unfortunately, the man's rabid fans paint a bulls-eye on Brita via Jordan. When Brita disappears in hope of protecting her family—and her and Ethan's secret lifestyle—he knows he has to find her. First, he has to catch the bastards stalking her.
Book Trailer:
Pretzel Logic by Tymber Dalton. from Sunshine Reads on Vimeo.