Suncoast Society – 55
(Contemporary BDSM, MMM, HEA)
In sickness and in health, Brandon, Jeff, and Stuart find their vows strongly tested. The biggest test of all? To survive raising a teenaged girl.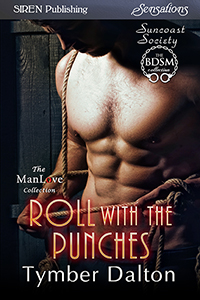 Writing As: Tymber Dalton
Publisher: Siren-BookStrand
Release Date: July 24, 2017
Buy Links:

http://www.bookstrand.com/book/roll-with-the-punches
Note: It takes 4-6 weeks for books to be released to third-party sites by my publisher after their initial release on the Siren-BookStrand site. I have no control over that. If you have a Kindle, you can order directly from Siren-BookStrand and have the file sent right to your device/app. If you have another kind of device, or read on a tablet, you can buy other format files from Siren-BookStrand and either download them or transfer them to your device. Nook | Kobo | iPad | BookStrand App via iTunes or Google Play for Android (Includes FREE books!)
Blurb:
Stuart has no regrets about his new life with Brandon and Jeff. For the first time, he feels he's exactly where he's supposed to be, with a family who loves him for who he is. Even despite the craziness with Brandon's ex, it's all worth it.
Jeff knows this is for life with the two men and has never felt happier. When a mission to help his sister's friend leads to an unexpected health crisis with an uncertain outcome, he is forced to admit he's also vulnerable in ways he never imagined, both physically and emotionally.
Brandon gets that his ex has issues, but he won't let those stand in the way of him and his husbands parenting Emma, his teenaged daughter. Jeff and Stuart have proven they're there for life.
Now their sanity is stretched to the max in ways they never imagined by a horrific truth—they're raising a teenaged daughter who's starting to date.
Note: This is a direct sequel to Heartache Spoken Here.
Related Books: Heartache Spoken Here, A Case of You