Suncoast Society – 52
(Contemporary BDSM, MM, HEA)
When Victor and Simon meet, they click in a spooky good way. But are they also dealing with real ghosts, not just the metaphorical kind?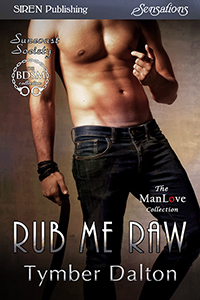 Writing As: Tymber Dalton
Publisher: Siren-BookStrand
Release Date: June 12, 2017
Buy Links:

http://www.bookstrand.com/book/rub-me-raw
Note: It takes 4-6 weeks for books to be released to third-party sites. I have no control over that. If you have a Kindle, you can order directly from Siren-BookStrand and have the file sent right to your device/app. If you have another kind of device, or read on a tablet, you can buy other format files from Siren-BookStrand and either download them or transfer them to your device. Nook | Kobo | iPad | BookStrand App via iTunes or Google Play for Android (Includes FREE books!)
Blurb:
Tired of being an object instead of a partner, Simon forces his ex to move out after hitting his emotional limit and realizing the man only wants him for wank fodder. An introduction to Victor by friends helps Simon shut the mental door on his ex for good and long to explore all the delicious Domly things the handsome realtor wants to do to him.
Victor moved to Florida for a fresh start far away from his ex. He's looking for an open and honest subby guy. His instant, scorching attraction to Simon is only intensified by the fact that he can actually get some decent sleep for the first time in weeks when with the man.
But spooky events and shocking revelations force Victor to move from his temporary digs and in with Simon. Now, it's make or break time. Can Simon handle Victor full-time in full-on Dom mode, or will both men be rubbed emotionally raw yet again?
Book Trailer:
Rub Me Raw by Tymber Dalton from Sunshine Reads on Vimeo.