Suncoast Society – 56
(Contemporary BDSM, MF, HEA)
Sometimes, the second chance is the sweetest…and the one best able to destroy you.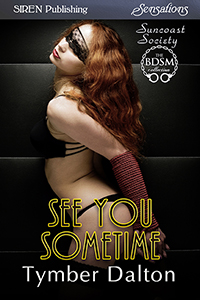 Writing As: Tymber Dalton
Published By: Siren-BookStrand
Release Date: August 7, 2017
Buy Links:

http://www.bookstrand.com/book/see-you-sometime
Note: It takes 4-6 weeks for books to be released to third-party sites by my publisher after their initial release on the Siren-BookStrand site. I have no control over that. If you have a Kindle, you can order directly from Siren-BookStrand and have the file sent right to your device/app. If you have another kind of device, or read on a tablet, you can buy other format files from Siren-BookStrand and either download them or transfer them to your device. Nook | Kobo | iPad | BookStrand App via iTunes or Google Play for Android (Includes FREE books!)
Blurb:
Divorced from her Master husband of fifteen years, Skye moves back to Sarasota to live with her parents and rebuild her life. New job, new kinky friends, and she reconnects with her D&D buddies from high school. Including her old boyfriend, Axel.
Axel's been divorced for a couple of years and realizes he's pretty much given up on dating. He also knows most of his D&D friends are kinky, and they assume he's a straight-laced guy. When Skye returns to his life, he doesn't dare hope there might be a possibility they can make things work now that they're all grown up. Or can they?
Sometimes, the second chance is the sweetest…and the one best able to destroy you. Axel soon realizes if he can't figure out how to give Skye what she needs, there are plenty of guys who will. But if he has to say good-bye to her a second time, he's not sure his heart will recover.
Related Books: Axel has made brief appearances in A Roll of the Dice and Initiative.