Suncoast Society – 67
(Contemporary BDSM, MMF)
After a hurricane takes Jessica's home and forces her return to Florida, meeting Tristan and Kyle creates more unexpected storms in her life.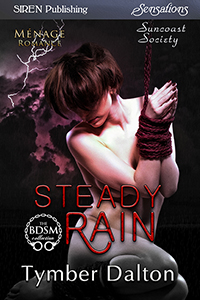 Writing As: Tymber Dalton
Publisher: Siren-BookStrand
Release Date: February 19, 2018
Buy Links:

http://www.bookstrand.com/book/steady-rain
Note: It takes 4-6 weeks for books to be released to third-party sites. I have no control over that. If you have a Kindle, you can order directly from Siren-BookStrand and have the file sent right to your device/app. If you have another kind of device, or read on a tablet, you can buy other format files from Siren-BookStrand and either download them or transfer them to your device. Nook | Kobo | iPad | BookStrand App via iTunes or Google Play for Android (Includes FREE books!)

Blurb:
When a hurricane takes Jessica's home, gives her a new dog, and forces her return to Florida, she's determined to focus on herself and definitely isn't looking for a relationship after her cheating ex shredded her trust. Enter Tristan and Kyle, and the two hunky Doms soon work their way under her skin.
Tristan and Kyle were friends and roommates first, and run a rope group together, but the attraction between them finally boils over into more. Still, they're possibly open to a third if they meet the right woman. That's when Jessica drops into their lives.
When their kinky and vanilla lives merge in an unexpected way, outside forces at play threaten to destroy their happiness before they even have a chance to explore their new dynamic together. Between meddling exes and painful pasts, it all combines to create an emotionally explosive situation that might leave all three of their hearts shattered if they can't find a solution together.