Suncoast Society – 83
(Contemporary BDSM, various)
When Cali and Marcia set up a photo-shoot at Venture, featuring their hunky, drool-worthy Dom friends in suits, it's not just tongues that will tied!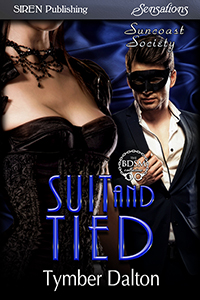 Writing As: Tymber Dalton
Publisher: Siren-BookStrand
Release Date: October 23, 2018
Buy Links:

https://www.bookstrand.com/suit-and-tied-mf
Note: It takes up to 6 weeks for my Siren-BookStrand-published books to be released to third-party sites after their initial release. I have no control over that, that's up to them. If you have a Kindle, you can order directly from BookStrand and have the file sent right to your device/app. For other tablets/devices, you can buy other format files and either download them or transfer them to your device.

Blurb:
Cali and Marcia have a plan to drum up publicity for both Venture and the Two Crafty Bastards Toys website. So they set up a photo-shoot at the BDSM club, featuring several of their volunteers and friends in a variety of poses.
The theme? Suits.
Trying to coax a group of headstrong Doms out of their Friday-casual jeans and khakis and into sinfully sexy suits is tougher than corralling Baxter, Cali's nip-addicted kinky cat. But when their respective partners get a look at the group of hunky, drool-worthy Doms all dressed up to the nines, you can make a safe bet it's not just tongues that will be tied!