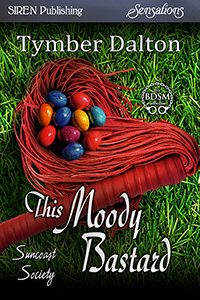 This Moody Bastard
Suncoast Society – 50
contemporary BDSM, MF, MMF, MM
Writing As: Tymber Dalton
Publisher: Siren-BookStrand
Release Date: 05/01/2017
Buy Links:

http://www.bookstrand.com/book/this-moody-bastard
Kindle (US) | Kindle (UK) | Kindle (CA) | Kindle (AU)
Kindle (JP) | Kindle (IT) | Kindle (DE) | Kindle (MX)
Kindle (BR) | Kindle (IN) | Kindle (NL) | Kindle (ES) | Kindle (FR)
Blurb:
Another holiday, another Suncoast Society party. What's troubling Cali, Sean, and Max? Can a kinky Easter egg hunt snap them out of it? As their friends gather once more, the triad puts on a united front and a happy face. While they remember to count their blessings, will the future finally come into clear focus?
Unicorn photo shoots, rainbow rope, and getting their cat, Baxter, stoned on catnip are all on the agenda. It doesn't hurt that they finally get to see karma in all its splendid glory giving them the good kind of cosmic payback for a change.
They know they're lucky. Now all they have to do is keep reminding themselves of that fact.
Note: This is a direct sequel to Happy Spank Patrick's Day, Kinko de Mayo, and Crafty Bastards.