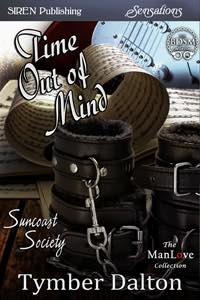 Time Out of Mind
Suncoast Society 43
MM, BDSM
Writing As: Tymber Dalton
Publisher: Siren-BookStrand
Release Date: 01/23/2017
Buy Links:

http://www.bookstrand.com/book/time-out-of-mind
Note: It takes 4-6 weeks for books to be released to third-party sites. I have no control over that. If you have a Kindle, you can order directly from Siren-BookStrand and have the file sent right to your device/app. If you have another kind of device, or read on a tablet, you can buy other format files from Siren-BookStrand and either download them or transfer them to your device. Nook | Kobo | iPad | BookStrand App via iTunes or Google Play for Android (Includes FREE books!)
Blurb:
Doyle Turner's a psychologist specializing in addiction recovery and is a professional sober companion. He's also a recovering alcoholic with over twenty years of sobriety under his belt. And he's a Dom in his personal life, which he hasn't had much of lately. Mevi Maynard not only tests Doyle's infinite patience, the handsome rock star's testing his self-control.
Mevi Maynard's rock-bottom crash follows the discovery that his manager stole his fortune. Now, Mevi's fresh out of rehab. If he doesn't want to file bankruptcy, he has to stay sober for the new tour or he's out of the band. But what he can't admit to Doyle—and has never admitted to anyone—is that he's gay.
One patient Dom. One stubborn rock star. Both are really stupid men, according to their friend, Tilly. Can she help the men get out of their own way and see the light, and their love for each other, before it's too late?