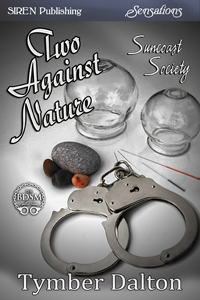 Two Against Nature
Suncoast Society 39
MF, contemporary, BDSM
Writing As: Tymber Dalton
Publisher: Siren-BookStrand
Release Date: 10/31/2016
Buy Links:

Kindle (US) | Kindle (UK) | Kindle (CA) | Kindle (AU)
Kindle (JP) | Kindle (IT) | Kindle (DE) | Kindle (MX)
Kindle (BR) | Kindle (IN) | Kindle (NL) | Kindle (ES) | Kindle (FR)
Blurb:
Holly's severe chronic pain from her fibromyalgia isn't merely physical, it's emotional, too. Her brother Louis sits in jail, wrongly convicted of their mother's murder. Nothing will stop Holly's efforts to get his sentence overturned. She's put her life on hold to make it happen.
Walt's avoided the fact that he's insulated himself from moving forward because he still holds a torch for his ex, Kimbra. When he meets Holly, he knows he can help her in more ways than one—Kimbra's an attorney…and a friend. Walt's also a heavy sadist who wants to show Holly how the good kinds of pain can help her overcome the bad.
While work commences to free Louis, Walt realizes exactly how hard he's fallen for Holly. As he finds himself fighting to show her that a spoonie and a sadist can make a relationship work, will he convince her that two against nature can absolutely be perfect for each other?
Book Trailer:

Two Against Nature by Tymber Dalton from Sunshine Reads on Vimeo.