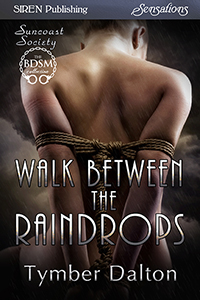 Walk Between the Raindrops
Suncoast Society – 51
contemporary BDSM, MF
Writing As: Tymber Dalton
Publisher: Siren-BookStrand
Release Date: May 26, 2017
Buy Links:

http://www.bookstrand.com/book/walk-between-the-raindrops
Note: It takes 4-6 weeks for books to be released to third-party sites. I have no control over that. If you have a Kindle, you can order directly from Siren-BookStrand and have the file sent right to your device/app. If you have another kind of device, or read on a tablet, you can buy other format files from Siren-BookStrand and either download them or transfer them to your device. Nook | Kobo | iPad | BookStrand App via iTunes or Google Play for Android (Includes FREE books!)
Blurb:
(This is June and Scrye's book.)
When June's twin sister July was murdered at seventeen, only Scrye's love and strength kept June going, even as her world fell apart around her. That very love means she can never reveal to him the dark secrets she harbors surrounding that stormy night.
Or what she did to make things right.
Years before Mark was known as Scrye the rope guy, he'd loved June completely and knew he'd marry her. July's murder shatters June and her family, leaving Mark, only nineteen, to step forward and take charge. Over twenty years of marriage later, he loves June more than ever and knows he'll do whatever it takes to keep protecting his wife.
Especially things she can never know about.
When her painful past is dredged from a river, June has to face demons from that horrible night that threaten to take everything from her. Can she hold the lies together without her sweet sadist ever learning the horrific truth?
Note: Some of the events referenced in this book are from Vicious Carousel. It's not necessary to read that book first, but you'll learn more backstory if you do.
Book Trailer: