Series Facebook Page: Good Will Ghost Hunting series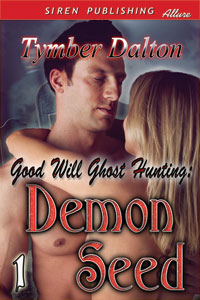 Writing As: Tymber Dalton
The first two books of the series, Good Will Ghost Hunting: Demon Seed, and Good Will Ghost Hunting: Hell's Bells, were originally released by another publisher and writing as Lesli Richardson. They were revised and expanded and re-released by Siren-BookStrand and writing as Tymber Dalton.
The Good Will Ghost Hunting series is a paranormal series set in Florida that plays with mythology and tosses it in a blender. Demons are real, and actually the good guys. They're the earth-bound fighters who protect this plane from bad things that try to get in and harm innocents. (They got a lot of bad and unfair press over the years, but trying to correct that image means revealing the secret that they even exist at all, so they stay quiet.)
Ryan Ausar is head of "The Firm" — or, in other words, he's the Devil himself. He's trying to get his head archdemon, Will Hellenboek, to come back to work. Will is in mourning, and has been since the ruthless murder of his soul mate twenty-five years earlier.
If Ryan can't get Will back to work, Will's powers will weaken to the point he can finally commit suicide and put himself out of his misery. Meanwhile, he's masquerading as a ghost hunter for a cable TV show with his cousin, Aidan.
That's when Ryan has to play dirty. But Ryan is also a man of many secrets, and doesn't bear the weight or responsibility of his office lightly. He puts his own happiness aside at great personal cost.
And that's where the series begins.
Reading Order:
Ryan Ausar also appears in several books in the Triple Trouble shifter series.