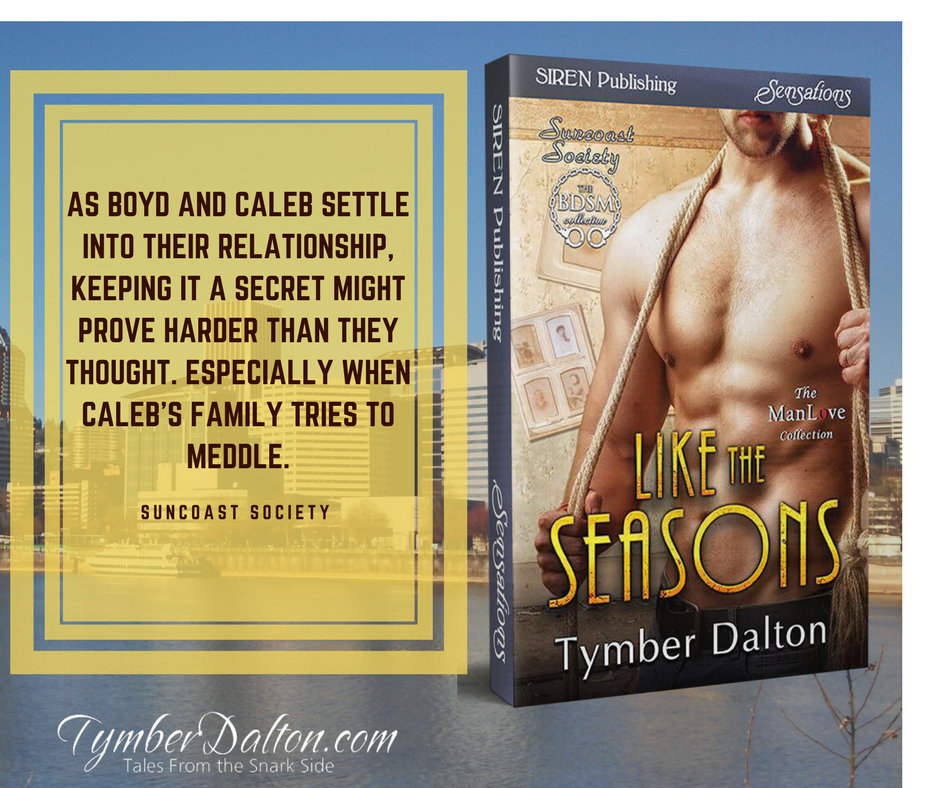 The Suncoast Society is a contemporary BDSM series set in and around Sarasota in west central Florida. It focuses mostly on a group of friends who have the Suncoast Society munch group and the BDSM club Venture in common.
Suncoast Society series Facebook Page: https://www.facebook.com/SuncoastSociety

Writing As: Tymber Dalton
Publisher: Siren-BookStrand
Suncoast Society Series Reading Order
The books are standalone and can be read independently from each other. However, to avoid any spoilers, and to not miss any story arcs, the best reading order for the Suncoast Society series is as follows:
Where to start?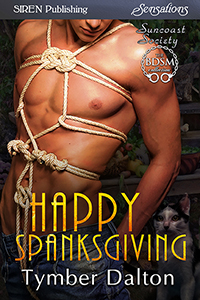 I'm frequently asked where someone "should" start in the series. Some people like to read from book 1 onward. Since the books are standalone, you can pick and choose from them, although you might miss some inside jokes and backstory you'd recognize from earlier books.
If someone is completely new to the BDSM genre and wants to learn more about it, sometimes it's better they start with some of the "gentler" books.
A Roll of the Dice (MF pairing) is about an average, middle-aged couple now faced with an empty nest when their son goes off to college. They delve into BDSM as a way to spice up their marriage. Sometimes, people new to BDSM don't understand "why" someone would want that kind of dynamic, and it's a great way to introduce the softer side of it.
Likewise, Domme by Default (MF pairing) is another good "starter" story. It's about a man who, after several years of marriage, reveals he actually wants his wife to top him, and how they both adjust to that, and the allowances each makes so both can get what they need from the relationship.
The Denim Dom (MF pairing) is Tony and Shayla's story. She signs on to be his submissive to learn about BDSM for a magazine article series she's writing. But what started out as a professional arrangement turns very personal. She starts out with some preconceived and legitimate prejudices against BDSM for her own personal reasons, and is shocked to discover things about herself she never realized before.
If you are no stranger to menages, The Reluctant Dom (MFM pairing) is a good one to introduce someone to the lifestyle. A man is dying, and he wants to make sure his wife and slave are taken care of after he goes, so he enlists the help of his best friend to carry on in his footsteps after he's gone. His friend is totally shocked by this and has to be walked through the hows and whys of BDSM.
See You Sometime is an old-loves reunited tale, but it's the experienced female submissive who has to teach the inexperienced male Dominant about the lifestyle. Skye has to help Axel understand the whys and hows of the lifestyle, and the question is can he find his own path through it to come up with a solution that will work for both of them?
Vulnerable is a MM story about an inexperienced male Dom who pairs up with an experienced male submissive.
---
Notes:
Tony's Collection (Suncoast Society) contains three books in one bundle: Domme by Default, The Reluctant Dom, and The Denim Dom.
There are many more books planned for this series. Since it is a standalone series, existing characters frequently walk through each others' books, and new characters will debut in future books. However, some of the books tie in directly with other books.
Tony first appears in Domme by Default and The Reluctant Dom. His story is told in The Denim Dom, and we see a follow-up vignette in Click.
Tilly and her men appear (and will continue to appear) in a lot of books as secondary characters, but their main story arc is comprised of:
His Canvas introduces Chelbie, whose story is told in Sapiosexual.
Out of the Spotlight, Friends Like These, and Vicious Carousel are a sort of "trilogy" story arc that each lead into the next.
Vicious Carousel is a prequel to Walk Between the Raindrops (June and Scrye's feature book).
Open Doors leads into One Ring, introducing Amelia, whose story is told in One Ring.
The Strength of the Pack is a direct sequel to Vulnerable, and picks up exactly where the previous book leaves off.
Kaden, Leah, and Seth books. (They appear in others as minor characters.):
A Merry Little Kinkmas sets up an interesting conundrum for Clarisse (Safe Harbor) that plays out in A Very Kinky Valentine's Day.
A Very Kinky Valentine's Day sets up the foreshadowing for Ross and Loren's tale in Things Made Right. (Which, if you've read Safe Harbor, will make even more sense.)
The "South Dakota Trilogy" story arc contains the following three books:
Fire in the Hole is a direct sequel to Splendid Isolation, but you don't have to read that book first to understand the events.
Cali, Max, and Sean, who run Two Crafty Bastard Toys and volunteer at Venture, have several feature books and appear as secondary characters in several other books besides the following:
Brandon, Jeff, and Stuart have a multi-book story arc:
And Brandon's ex-wife, Tracey, gets her story in Blues Beach. (Yes, there will be more books about all of them.)
Axel (See You Sometime) was briefly introduced in A Roll of the Dice and Initiative.
Scrye and June's story also has some follow-up stories about the apartment she used to live in.
Rusty and Eliza float throughout the series and appear in quite a few books. Most notably:
---
Trivia:
Venture is based in part on the real-life Tampa Bay Phoenix Club. The Suncoast Society munches are based on the Sarasota Society group munches.
The phrase "things made right" isn't just a title for one of the books. It's also spoken by a couple of different characters in other books, sometimes without specific knowledge of what it means to Ross and Loren, while also having the same (or similar) intent. (And to avoid spoilers, you'll just have to read it. LOL)
Many of the heroes and heroines in this series are in their forties or older.
---
FemDom:
Some of the book in the series have FemDom elements (even if very minor or between secondary characters in the book) or are more FemDom in nature.
---
Health Issues:
Some of my books feature characters dealing with health problems, either chronic or acute:
---
Related Characters/Stories:
Ray, Oot, and kitten from Safe Harbor also appear in Love Slave for Two: Beginnings and kitten's tale.
Tony Daniels also makes a vanilla appearance in Two Geeks and Their Girl.
Purson Gibraltar snuck into A Clean Sweep and Steady Rain from his normal home in the Good Will Ghost Hunting series.
---
The Series Covers:
(Newest to oldest. Related books and box sets at the bottom. Click on a cover to go to the book's information page.)