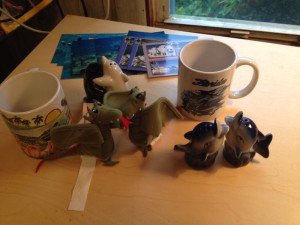 Okay, as picked by using the random number generator on random.org's site, here is the list of winners for my giveaway. The first 9 winners were for the pictures schtuff, and the others are for swag packs. The faster you first 9 contact me, the better the chance you have to pick what you want. (And if you don't email me by Tuesday, May 13th, I'll pick an alternate.) Email me at:
tymberdalton AT gmail DOT com and put Contest Winner in the subject line so I see it.
I'll go by timestamps as they hit my inbox. (Don't panic if I don't respond right away, I've got a busy two days ahead of me.)
The first group of 9 winners gets to pick from one of the following (and will also get swag):
2 – IKEA stuffed dragons (like the two I gave away a while back)
2 – Florida coffee mugs with dolphins
1 – Florida coffee mug with alligator
2 – black and white dolphin salt and pepper shakers
2 – blue dolphin salt and pepper shakers
FLORIDA POSTCARDS! (Assorted, and will get distributed throughout the winners)
The sooner you email me, the better your chance to pick what you want from the above group of schtuff I have to give away!

And those winners are:
Annette Schleihauf
Renee (who talked about character names in case there's another Renee LOL

)
Catherine Farrell
Amy bowens
jessica canoto
Michelle O'Neill
Sherry Neal
Nivia Eldridge
Cathy Mitchell
The second group of winners of only the swag packages are:
Diana Merritt
Jessica B
Amy (who said hola LOL)
Aya Sato
Megan Clemens
Emily Wilson
If someone doesn't contact me from the first group, I'll pick the first person from the second group to get whatever they don't claim, and so forth.
Thanks for playing, and I'll be posting another giveaway soon!