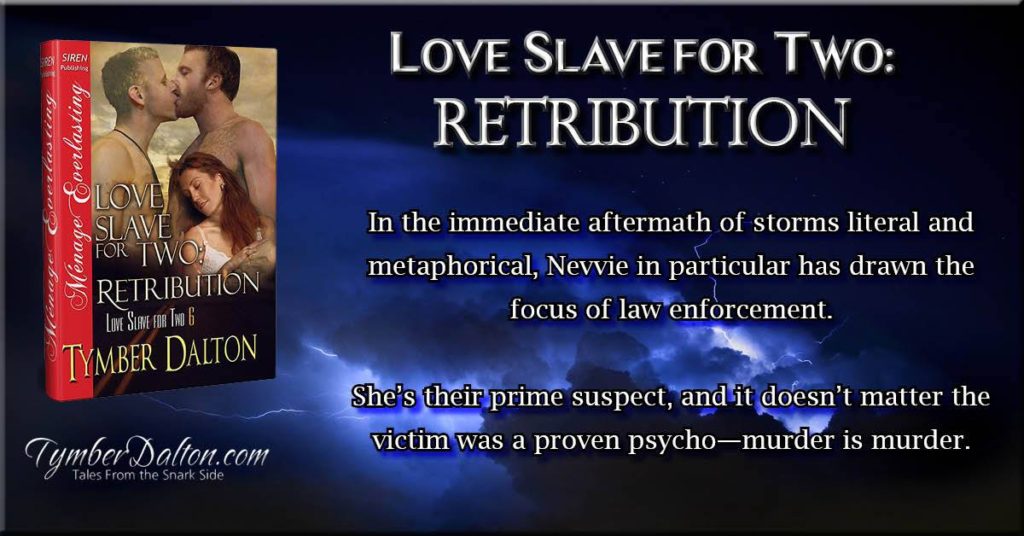 Woot! For those of you who've been waiting for Love Slave for Two: Retribution to hit Kindle–it's there! It's also on Kobo, and I'll update the listing when it hits Nook, Apple, and Google.
http://www.bookstrand.com/book/love-slave-for-two-retribution
Kindle (US) | Kindle (UK) | Kindle (CA) | Kindle (AU)
Kindle (JP) | Kindle (IT) | Kindle (DE) | Kindle (MX)
Kindle (BR) | Kindle (IN) | Kindle (NL) | Kindle (ES) | Kindle (FR)
---
Also, there are some new print arrivals:
---
Rusty and Eliza's story is now available: Almost Gothic (Suncoast Society 65)
And you can pre-order Empty-Handed Heart (Suncoast Society 66, MMF)
Make sure you subscribe to my newsletter so you don't miss pre-order or release notifications. (And reply to the confirmation e-mail to make sure you complete your subscription). Don't worry, I will NEVER share/sell/cross-post my subscriber list.
And if you're on Facebook, you can like and follow my Tymber Dalton page there.
---
Most Recent Releases/Coming Soon:
Now in Audiobook:
Coming Soon | Spreadsheet of Buy Links | Series Info | Audiobooks
Facebook group Tymber's Trybe | My Facebook Page
Twitter | Instagram | Google+ | Pinterest
Tymber's Amazon Author Page | Lesli's Amazon Author Page
My Siren-BookStrand Author Page
Hubby's Amazon Author Page as Jon Dalton
Hubby's Amazon Author Page as Haley Jordan