Suncoast Society – 93
(Contemporary BDSM, MF)
Mallory's engaged in the fight of her life, but will Askel learn how to let go when Mal sets forth an ultimatum about her recovery?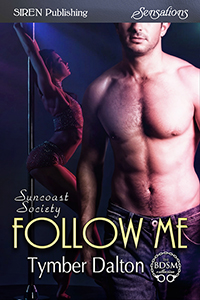 Writing As: Tymber Dalton
Publisher: Siren-BookStrand
Release Date: 03/26/2019
Buy Links:

https://www.bookstrand.com/follow-me-mf
Note: It takes 4-6 weeks for books to be released to third-party sites. I have no control over that. If you have a Kindle, you can order directly from Siren-BookStrand and have the file sent right to your device/app. If you have another kind of device, or read on a tablet, you can buy other format files from Siren-BookStrand and either download them or transfer them to your device.

Blurb:
Askel's frantic to help Mallory find a stable recovery from her anorexia, but every time he gets his hopes up another relapse threatens her survival. He's willing to do anything to save his wife, including setting aside their Master/slave dynamic, if that's what it takes.
Mal knows she's in the fight of her life, but she's hit yet another plateau and her recovery has stalled. Something has to give before her body gives out. She's willing to take matters into her own hands and try a new path, even if it's one Kel and her doctors disagree with.
Kel isn't happy about Mal's decisions, but it's not like there's anything he can do about it now. And when she issues an ultimatum about their relationship, he's even less happy. Can he learn to let go, trust Mal, and put his faith in their friends? Or is he standing by and following his wife down a path of self-destruction?
Related Books: Mallory and Askel have a complex story that starts in His Canvas and then winds through several other books: A Kinkmas Carol, Happy Spank Patrick's Day, This Moody Bastard, Walk Between the Raindrops, Friends in Common, Almost Gothic, Happy Spank-O-Ween, It'll Be Fun, and then they are featured again in Follow Me.