If you're not a geek this might not interest you. (You have been warned.)
I have a MacBook Air running Yosemite 10.10.5, using Chrome and Safari. And I run Avast. We had Verizon Fios, but with the fustercluck that was the Frontier takeover of Fios in our state, we dumped it and got Bright House.
As soon as we got Bright House, I started having trouble accessing some sites. Hubby, on a Win10 laptop and using FireFox, had no problems. (He also uses Avast.) Our other iDevices (iPads, iPhones, Kindle Fire, Samsung Tablet, etc were not having problems).
Not all Bright House connections did that to me, either. A couple of places with older routers, I had no trouble. But I remembered that when house-sitting a couple of years ago, I had the same problem.
The problem I was having was that, for example, if I tried to go to http://google.com it would not work. But https://google.com would work. Or trying to click on outside links in Facebook would give me errors unless I went in and manually changed the address to https.
ANNOYING. AS. CRAP.
After searching the Interwebz for answers, scouring my laptop's settings, the router's settings, trying turning off firewalls, etc, I finally remembered that a couple of years ago, I turned off Avast and it worked. Which sucks, because yes, while I'm on a Mac, I like having that extra layer of protection.
Tried that. It worked.
So I started scouring Avast. (Please don't tell me to ditch Avast. I like Avast and usually don't have problems with it.)
FINALLY, I stumbled upon a setting in Avast in Web Shields, Use IPv6, that was ticked. I tried unticking it.
Problem solved.
Don't know WHY it's working, but it's working again. So I'm putting this blog post out there in case someone else ever has a similar problem.
---
I released books 1-3 in my Bleacke Shifters series (as Lesli Richardson) in a box set. No new content, but if you don't have the books, it's a bargain. Look for book 4 around June.
Liability (Suncoast Society 33, MMF, BDSM) is available from Siren-BookStrand and should be coming to third-party sites soon. I'll be submitting Switchy (Suncoast Society 34, MMF, BDSM) this month. So look for that around May/June.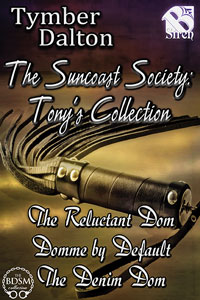 ICYMI, there's a boxed set out for my Suncoast Society books, Tony's Collection, which contains The Reluctant Dom, Domme by Default, and The Denim Dom. If you don't have one or more of those books, it's a great deal to add them to your collection.
#BugReport MacBook Air, Avast, Bright House, IPv6 setting, and problems using sites that aren't https