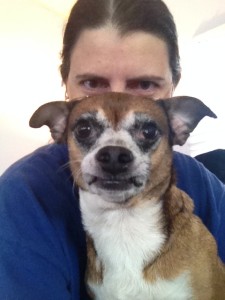 I'm a native Floridian writer (yes, I was thirty-nine before I actually saw real snow) and life-long resident of the state. I've been married to the World's Greatest Husband(TM) for over twenty years now. I live in the Tampa Bay area with Hubby, Kiwi the wonder muttling, six overbearing cats, a bird who thinks she runs the place, and Sheldon, a Horsefield tortoise. (And yes, I'm a poly BDSM lifestyle switch, and I have both a Hubby and a Sir. No, we don't all live together. Yes, I'm very lucky. No, it's not all about sex. Yes, it's complicated.)
I have #fibromyalgia, #CFS, #arthritis, and a cardiac condition my cardiologist is convinced is linked to my fibro, but even has him tossing his hands in the air over it. I'm definitely a #spoonie which means that writing IS my evil day job, since some days I either don't have the strength or am in too much pain to get out of bed. (PJs are acceptable work clothes. Just sayin'.)
I write as Lesli Richardson, Tymber Dalton, Macy Largo, and Tessa Monroe. To date, I have over 120 titles and counting. Tymber is my most prolific pen name. I do write things besides romance and erotica, but the romance and erotica are fun to write. 🙂
I consider myself a Pagan in the traditional sense (not a neo-Pagan). I'm a Taurus, I'm frequently politically incorrect, and I'm a staunch supporter of GLBTQ rights, as well as my right to keep and bear arms and the freedom of the press. Being a liberal, native-Floridian, solitary Pagan eclectic witch, poly, BDSM-ing, skeet-shooting gun owner usually means I can manage to piss off 100% of any given room. 🙂 So unless you've got an open mind and a live-and-let-live attitude, you might find I'm just not your cuppa. 🙂
And yeah, save the hate mail if it has anything to do with religion or politics, because I'll just File-13 it. (Unless I'm in a mood, then I'm liable to embarrass you and post it to my blog! LOL No, I'm not kidding. And yes, I'm usually in a mood.)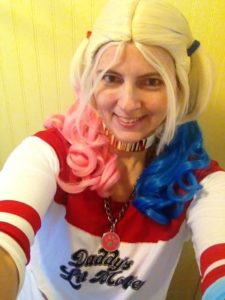 In addition to my family, writing, reading, and D&D, I'm a die-hard fan of Hello Kitty, Deadpool, The Big Bang Theory, The Walking Dead, Star Trek (TOS), and Doctor Who. I also LOVE shooting skeet (although I'm still in search of my elusive first twenty-five score) and started hashing (the running sport, not the drug, just do a web search for "hash house harriers") although due to injuries I haven't been out with the local kennel in quite a while. I've also added part-time Viking shield-maiden in training to the mix, as I get out with a local reenactment group when time (and pain levels) allow.
On my blog I talk about everything from my writing and books, to life in general, a few assorted rants here and there, techie stuff, polyamory, BDSM, guns, and explicit sex (usually in the form of excerpts from my books). I'm snarky, sarcastic, irreverent, and sometimes don't hesitate to climb up on my soapbox. If you think I'd be a good fit for you, please use one of the subscribe features so you don't miss any updates. 🙂
If you want to contact me, hit the Contact link at the top of the page.
Awards
2010 EPIC Award for Horror: "Out of the Darkness" (writing as Lesli Richardson, Lyrical Press, re-released by Siren-BookStrand as Tymber Dalton)
2010 EPIC finalist: "Cross Country Chaos," "The Reluctant Dom"
2011 EPIC Award for Contemporary Erotica: "Safe Harbor" (writing as Tymber Dalton, Siren-BookStrand)
Me at skeet.