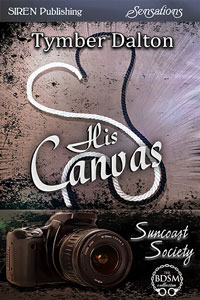 Woot! I feel like crap and sound like Barry White on helium, but hey, it's RELEASE DAY! 🙂 His Canvas (Suncoast Society 10) is now available from Siren-BookStrand. (And as of this writing it's already #1 on BookStrand's MF bestseller list! Woot!)
http://www.bookstrand.com/his-canvas
Description
[Siren Sensations: Erotic Consensual BDSM Romance, public exhibitionism, shibari, edge play, blood play, knife play, sex toys, HEA]
Mallory has a crazy, overbearing uncle, college, a job, and the best friend any woman could ask for. She enjoys her time at the BDSM club, but she's no skinny rope bunny. She certainly isn't looking for love when handsome rigger and photographer Kel volunteers to play with her.
Had Kel known the beautiful, curvaceous woman wanted to be suspended, he would've volunteered a long time ago. She's a gorgeous, full-figured woman he'd love to put his hands—and marks—all over. Still, her personal situation makes him reluctant to get involved. Not to mention he worries his darker side and love of edge play will scare her away.
When push comes to shove and another rigger moves in, Kel stakes out his territory, pleasantly surprised to discover Mallory wants to become his canvas—and nurture her own darker desires. The problem is, can they overcome the legal nightmare her uncle tosses at her, or will it tear them apart?
A Siren Erotic Romance
Remember, I have no control over the fact that books are exclusive to BookStrand's site for 4-6 weeks following release. BUT, if you have a Kindle, you CAN have books delivered directly to your device/app by BookStrand. And if you have other devices, you can buy in your format and download or transfer to your reader, and not have to wait for them to emerge on third-party sites.
The next two books in the Suncoast Society series are coming soon:
12/22 – A Lovely Shade of Ouch
1/5 – Crafty Bastards
You can see the full list and reading order of the other Suncoast Society books on the series page here on my website.
Thanks!! 🙂
Release Day! His Canvas (Suncoast Society 10) now available.