If you are subscribed to the alerts for my author page at BookStrand, you probably received an e-mail yesterday about a new preorder for my Tymber Dalton Special Collection 1.
Some of you might or might know I wrote three books as Macy Largo and Tessa Monroe for Siren. (Hence why those pen names are in my blog header image. LOL) I also write as Lesli Richardson (my real name).
A few years ago, Siren had two special collections they were publishing, invitation-only. I wrote Sunset Hearts and Dead Moon Rising as Macy Largo, and Sarasota Steam as Tessa Monroe. Unfortunately, name recognition is key. To this day there are still some people who don't realize those are also "my" books. (Again I refer you to my blog header image. LOL) So Siren decided to re-release them in a box set with my Tymber Dalton pen name.
There is NO new content, so if you already own those books, don't re-buy them.
However, if you don't have any of them, here's your chance to get them at a great deal.
What you might not also realize is that my books Stoneface and Hernando Heat were also going to be related to these two collections, but Siren opted to publish them as Tymber.
---
I also released books 1-3 in my Bleacke Shifters series (as Lesli Richardson) in a box set. No new content, but if you don't have the books, it's a bargain. Look for book 4 around June.
Liability (Suncoast Society 33, MMF, BDSM) is available from Siren-BookStrand and should be coming to third-party sites soon. I'll be submitting Switchy (Suncoast Society 34, MMF, BDSM) this month. So look for that around May/June.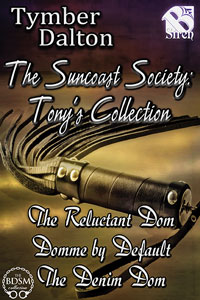 ICYMI, there's a boxed set out for my Suncoast Society books, Tony's Collection, which contains The Reluctant Dom, Domme by Default, and The Denim Dom. If you don't have one or more of those books, it's a great deal to add them to your collection.
Tymber Dalton Special Collection 1