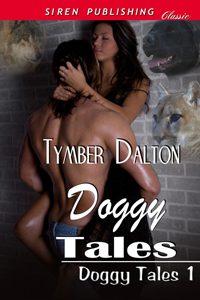 Doggy Tales, Vol. 1
Doggy Tales
mf, shape-shifter, HEA
Writing As: Tymber Dalton
Publisher: Siren-BookStrand
Buy Links:

Kindle (US) | Kindle (UK) | Kindle (CA) | Kindle (AU)
Kindle (JP) | Kindle (IT) | Kindle (DE) | Kindle (MX)
Kindle (BR) | Kindle (IN) | Kindle (NL) | Kindle (ES) | Kindle (FR)
Blurb:
[Siren Classic: Erotic Paranormal Romance, shape-shifters, HEA]
Feisty, opinionated women. Hunky, hardheaded, shape-shifting men. In Doggy Tales when the sexual heat cranks up, the fur flies. In these five shape-shifter stories, members of the Tampa Bruin wolf pack (including a panther cousin) find love and claim their mates.
* * * * *
Dog Walk: Ivan wanted a morning run. Was that too much to ask? When he crosses paths with Lindsey, he knows she holds the leash to his heart.
Doggy Style: Genna wanted a new start. Jeremy needed revenge. Neither expected to find love. Can Jeremy save Genna when his plan goes terribly awry?
In the Doghouse: Jeremy knows he screwed up. All he has to do is convince Genna he's sorry.
Puppy Dog Eyes: Tessa lusts after coworker Scudder. She doesn't know he feels the same, and it's more than puppy love.
A Nearly Cat-astrophic Christmas: Ivan's cousin, panther shifter Frank, falls for Tessa's cousin, Kaylie.
Note: This volume contains five shape-shifter tales. Three of the tales were previously published elsewhere and have been expanded. Two of the tales are original, new works.
A Siren Erotic Romance