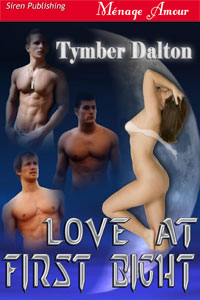 Love at First Bight
Deep Space Mission Corps 1
mmmf, sci-fi/futuristic
Writing As: Tymber Dalton
Publisher: Siren-BookStrand
Buy Links:

Kindle (US) | Kindle (UK) | Kindle (CA) | Kindle (AU)
Kindle (JP) | Kindle (IT) | Kindle (DE) | Kindle (MX)
Kindle (BR) | Kindle (IN) | Kindle (NL) | Kindle (ES) | Kindle (FR)

Nook | Kobo | iTunes | Google | ARe
Blurb:
[Menage Amour: Erotic Futuristic Menage a Quatre Romance, M/M/M/F with various combination of M/M, M/F, M/M/F, M/M/M, monogamous polyamory]
Dr. Emilia Hypatia is recently-graduated and looking for adventure. She's an Alpha-ranked healer, has a degree in psychology, and empath training. Fresh out of a bad relationship with a cheating ex, her five-year assignment to the Deep Space Mission Corps vessel, Tamora Bight, seems ideal. Especially when she meets the three handsome crewmen she'll spend her time caring for–in more ways than one.
First Officer Caphis Bates is playful and rowdy. Mate Ford Caliban is her intellectual and emotional partner. But it's Captain Aaron Lucio who is an enigma; passionate, with a deeply wounded and carefully guarded soul.
While sharing their communal bed is a scorchingly sensual experience, Emi soon learns the three men suffer a shared grief, their "crew story." She patiently works to unlock their secret past, but space exploration is cold–and cruel. Will time run out for all of them before she can heal their hearts?