A multi-author charity anthology to benefit friend and fellow writer, Doris O'Connor, and her family. All proceeds from sales of the anthology will go to Doris and her family, because as she herself has said, #f*ckcancer.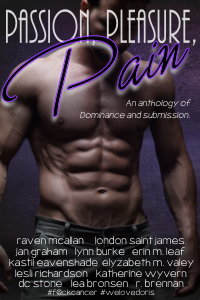 Writing As: Lesli Richardson
Release Date: 2/14/19 (projected)
Buy Links: Coming Soon

Story:
Yes, Governor (Governor Trilogy 3.5)
(mmf, political romance, contemporary)
As chief of staff to the governor of Florida, Carter has a well-deserved rep as a bastard extraordinaire. But when he's dealing with two governors for the price of one on Christmas Eve, will the Master find himself outmatched and outmaneuvered by his wily political pets?
Note: This standalone short story takes place after Chief (Governor Trilogy 3) and can be read as a standalone independent from the trilogy.