Suncoast Society – 92
(Contemporary BDSM, MF, with MMF between secondary characters)
Run a BDSM club, they said. It'll be fun, they said…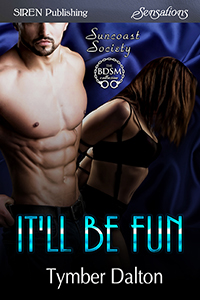 Writing As: Tymber Dalton
Publisher: Siren-BookStrand
Release Date: 03/05/2019
Buy Links:

https://www.bookstrand.com/itll-be-fun-mf
Note: It takes up to 6 weeks for my Siren-BookStrand-published books to be released to third-party sites after their initial release. I have no control over that, that's up to them. If you have a Kindle, you can order directly from BookStrand and have the file sent right to your device/app. For other tablets/devices, you can buy other format files and either download them or transfer them to your device.

Blurb:
Run a BDSM club, they said. It'll be fun, they said.
The group of friends and volunteers who keep Venture's doors open know it's not all fun and games when it comes to operating a BDSM club.
Because life always has an annoying way of getting in the way of their "fun."
Whether or not they can maintain their sanity and keep having fun remains to be seen.