Suncoast Society – 95
(Contemporary BDSM, MM, old friend reunited, friends to lovers, gay for you)
A secret crush, a sinkhole, and a little ninja niece in training. Can Maddox convince Hank their marriage of convenience is way more to him?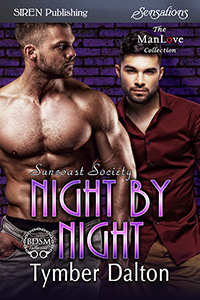 Writing As: Tymber Dalton
Publisher: Siren-BookStrand
Release Date: April 30, 2019
Buy Links:

https://www.bookstrand.com/night-by-night-mm
Note: It takes 4-6 weeks for books to be released to third-party sites. I have no control over that. If you have a Kindle, you can order directly from Siren-BookStrand and have the file sent right to your device/app. If you have another kind of device, or read on a tablet, you can buy other format files from Siren-BookStrand and either download them or transfer them to your device.

Blurb:
Hank never expected to be a single dad to his young niece, JJ, but he'll do anything to keep her safe. Finally able to move back to Sarasota, he quickly reconnects with his old best friend, Maddox. Dox always had his back in high school, and he never had a better friend.
Maddox secretly crushed on Hank. Except they haven't seen each other since high school, and he never confessed to Hank that he was bi. Maddox is also a Dom, but the last thing he wants to do is alienate his best friend now that Hank's back in his life.
When Hank's world literally caves in, nearly taking him and JJ with it, Maddox steps in and takes over, moving them in with him. And when the hits to Hank's world keep coming, nearly crushing him by threatening JJ's life, Maddox proposes a marriage of…convenience. But can he convince Hank it means far more to him than that?