Suncoast Society – 90
(Contemporary BDSM, MM)
While Gordon hopes his fragile reunion with Jonah is forever, how will their bond handle the stress and separation of Jonah's work and touring schedule?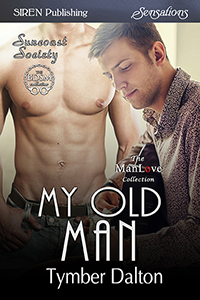 Writing As: Tymber Dalton
Publisher: Siren-BookStrand
Release Date: 02/04/2019
Buy Links:

https://www.bookstrand.com/my-old-man-mm
Note: It takes up to 6 weeks for my Siren-BookStrand-published books to be released to third-party sites after their initial release. I have no control over that, that's up to them. If you have a Kindle, you can order directly from BookStrand and have the file sent right to your device/app. For other tablets/devices, you can buy other format files and either download them or transfer them to your device.

Blurb:
Jonah knows the biggest mistake of his life was ever leaving Gordon in the first place. But he's bound and determined to prove to his Master that he's back for good, and dedicated to spending the rest of his life with Gordon.
Gordon wants to let his guard down, but even while haunted by his own fears, he refuses to order Jonah to quit the band, or not tour with them. Despite knowing he, too, could have the career of his dreams playing full-time with Portnoy's Oyster, Gordon's fight to maintain his sobriety won't let him relinquish the security and stability his teaching job brings him.
With ancient ghosts from a variety of emotional wounds echoing through both men's souls, can they carefully pick their way through this terrifying new relationship landscape to find a new "normal" for them, or will stress and fear and old pain pull them apart for good?
Related Books: Jonah and Gordon were first featured in Word of Mouth.