Suncoast Society – 86
Gordon's heart was already shredded once by Jonah. Does he dare risk his love—and his sobriety—and let his boy have another chance?
(Contemporary BDSM, MM)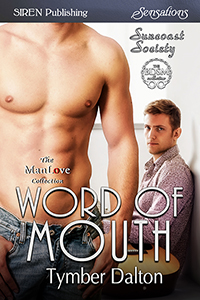 Writing As: Tymber Dalton
Publisher: Siren-BookStrand
Release Date: December 10, 2018
Buy Links:

https://www.bookstrand.com/word-of-mouth-mm
Note: It takes up to 6 weeks for my Siren-BookStrand-published books to be released to third-party sites after their initial release. I have no control over that, that's up to them. If you have a Kindle, you can order directly from BookStrand and have the file sent right to your device/app. For other tablets/devices, you can buy other format files and either download them or transfer them to your device.

Blurb:
Gordon's soul was already shredded once. He thought he'd failed Jonah as his Dom, and it took everything he had not to throw away his sobriety, too. Three years later, he's finally found peace, a new job, and is trying to move on. That's when his big break comes along—a chance to play with one of the most famous rock stars ever.
Except it also means playing with Jonah.
Jonah realized too late that the worst mistake of his life was leaving Gordon. Make that second-worst. His worst mistake was trusting the wrong person and breaking Gordon's heart with cruel words he wishes he could erase. When the chance of a lifetime falls in his lap, he's willing to throw it away if it means he can win Gordon back.
Jonah wants another chance to prove himself. Does Gordon dare risk his trust, his heart—and their biggest career opportunity ever—and let his boy back in?
Music Playlist (songs that Gordon and Jonah play): https://www.youtube.com/playlist?list=PLEObRhv1SaAoCSI2WhEDKkC3iUV04JaB6