Suncoast Society – 88
(Contemporary BDSM, MM, May/December, Daddy Dom, bear)
Ryland's in heaven when he meets Deacon. But can Ryland win over his Daddy Dom's stubbornly suspicious daughter before she drives a wedge between them?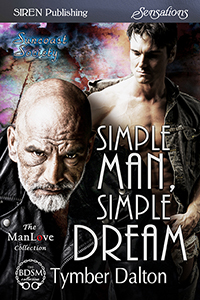 Writing As: Tymber Dalton
Publisher: Siren-BookStrand
Release Date: 01/08/2019

Buy Links:

https://www.bookstrand.com/simple-man-simple-dream-mm
Note: It takes up to 6 weeks for my Siren-BookStrand-published books to be released to third-party sites after their initial release. I have no control over that, that's up to them. If you have a Kindle, you can order directly from BookStrand and have the file sent right to your device/app. For other tablets/devices, you can buy other format files and either download them or transfer them to your device.
Blurb:
Deacon spent his life as a single dad raising his daughter, Delaney. Now he's retired, and his only job is taking care of his toddler granddaughter, Winter. But he's also lonely and needs more out of life than that. Enter hot, hunky—and much younger—Ryland.
Deacon is the Daddy Dom of Ryland's dreams, and the answer to his prayers. He honestly doesn't care about their age difference because everything else between them is too perfect to pass up. Just one problem—Delaney isn't happy about their age difference, and she's bound and determined to break them up.
But when an emergency hits, risking not only Deacon's life, but Winter's, will Ryland step up, step in, and finally show Delaney once and for all why he deserves to be in their lives? Or will Ryland's first real shot at true happiness be cruelly ripped from his hands before he even has a chance to enjoy it?
Related Books: Kent, Paul, and Tim are featured in Through With Love.