Suncoast Society – 94
(Contemporary BDSM, MF)
Tony and Shayla endured being separated for months due to Tony's job. Now the question is will they even survive their long-overdue vacation?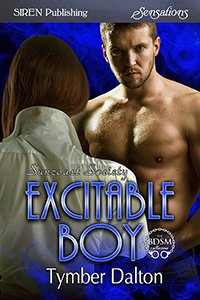 Writing As: Tymber Dalton
Publisher: Siren-BookStrand
Release Date: 04/09/2019
Buy Links:

https://www.bookstrand.com/excitable-boy-mf
Note: It takes 4-6 weeks for books to be released to third-party sites. I have no control over that. If you have a Kindle, you can order directly from Siren-BookStrand and have the file sent right to your device/app. If you have another kind of device, or read on a tablet, you can buy other format files from Siren-BookStrand and either download them or transfer them to your device.

Blurb:
After work kept Tony away from home and away from his wife and slave, Shayla, for a hellish couple of months, he's finally seeing light at the end of the tunnel that might not be an oncoming train. He can't wait to get home to Shayla and for the two of them to take a long-overdue vacation.
Shayla's missed Tony like crazy, but it is his job, and he's paid well. All right, so bad luck seems to be hitting them at every turn lately—or, more specifically, seems to be hitting her. It won't matter once he's home. The problem is, the closer they are to being reunited, the more Fate seems determined to keep them apart. And the hits just keep coming.
Tony simply wants to get out of town for a couple of weeks. But it's leaving both of them wondering if they're even going to survive their vacation, because that's starting to look pretty…iffy.
Related Books:
Tony's Collection (Suncoast Society) contains three books in one bundle: Domme by Default, The Reluctant Dom, and The Denim Dom. Tony first appears in Domme by Default and The Reluctant Dom. His feature book with Shayla is The Denim Dom, and we see a follow-up vignette in Click. Tony and Shayla are also featured in Things to Do in Denver, It'll Be Fun, and Excitable Boy, plus they make minor appearances in many of the books.